How to Prepare Your Organization for the Cloud
October 7, 2021 | News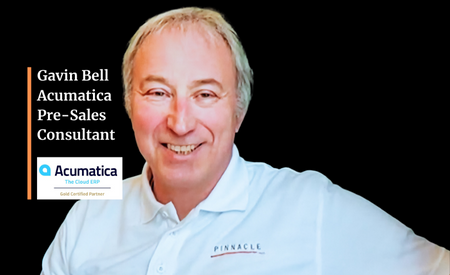 Chances are, if your organization has not yet migrated to a cloud-based ERP system, it will do so in the near future. What's keeping many companies from pulling the trigger on ERP implementation is the knowledge that moving from an on-premise to a cloud-based model is a huge undertaking. That's true, but it's far from impossible.
At Pinnacle, we know that just like anything else, successful ERP implementation requires preparation. Here are 9 questions to ask yourself to help make sure that your organization is prepared for the cloud.
Who is the migration architect?
In any data migration project, there are millions of decisions that must be made and plans to see through. Having a migration architect to lead these efforts is critical to the success of your ERP implementation goals.
Included in the migration architect's responsibilities are designing data migration strategies, outlining requirements, establishing priorities, and more. Of course, this shouldn't just fall to one individual. You'll probably want an entire team supporting the lead migration architect.
What level of cloud integration do you need?
Basically, there are two ways you can move an application from your on-premise system to the cloud. There's a shallow cloud integration, which means you move the application to the cloud with no or very few changes. Sometimes this is called a "lift and shift."
Then there's deep cloud integration, in which the application is altered during the move from the on-premise system to the cloud. Any changes that are made are done so the organization can take full advantage of the cloud capabilities such as serverless computing capabilities, auto-scaling, and cloud-specific data storage.
What are your Key Performance Indicators?
Key Performance Indicators (KPIs) are metrics that enable you to see how your cloud-based ERP system is performing against expectations.
The most useful KPIs will help you see the progress of your data migration in real-time and foresee problems that may crop up down the line. Most important, KPIs can help you determine when the migration is successfully completed.
Once your cloud-based ERP system is completely online, then you can pay attention to KPIs such as page load time, error rates, CPU usage, conversion rates, etc. Any metric that's important to your business can be identified, analyzed, and improved upon in the cloud.
What are your performance baselines?
You'll need to know what the performance of your current, on-premise system is to determine if the performance of your cloud-based system is acceptable. That process is called baselining.
To set a baseline metric for a particular KPI, determine how long you will collect data. Will it be a day, a week, a month, or longer? Shorter baseline periods let you move much more quickly, but choosing longer baseline periods will help ensure that you're collecting a representative sample of the data.
Also, decide if it's important that you collect data during "peak" periods in addition to periods that are average. For instance, if you're a financial site, is it beneficial to collect data on a day with a big swing in the stock market? Or would you rather avoid including the data from these days in your baseline?
How will you prioritize migration components?
It's up to you to decide if you want to migrate your on-premise components to the cloud all at once, or piece by piece. To make that decision, you'll want to first identify those services that depend on other services to run properly?
In general, it makes the most sense to migrate the services that have the fewest dependencies first, then work outward. Usually, that starts with internal components and then moves to customer-facing components. Other organizations may decide to migrate applications in reverse, starting with those that are customer-facing so they can mitigate any impact on customers.
Is there any refactoring that's necessary?
Refactoring means re-writing one or more components of an application. It may be useful for you to do this before migrating to a cloud-based ERP system so they work as efficiently as possible in the cloud.
Can you delete any data?
Take time to go through old records and data storage. What can be deleted? What should be archived? Are there duplicate records taking up space? The less data you have to transfer the easier it will be.
What's your data migration plan?
One of the most complex parts of this process is data migration. Moving the data to the cloud while the applications are still on-premises can cause problems. Likewise, moving the application to the cloud while the data remains on-site can be problematic.
Don't underestimate the complexity and importance of data-migration planning. Not paying close attention to your data-migration plan before you begin a cloud migration can cause migrations to fail, or at least fail to meet expectations. Your migration architect should be very involved in the data-migration planning process.
How will your data be protected?
You want to ensure that your data is secure during the migration and once it's up in the cloud. Your third-party ERP host should provide leading-edge security protocols including firewalls, backups, regular maintenance and more.
The Cloud is Coming. Be Prepared.
One sure way to prepare your organization for the cloud is to contact the team at Pinnacle today. We can offer a range of solutions including the implementation of Acumatica, The Cloud ERP. Acumatica is an award-winning ERP software solution that can be tailored to your business, thereby accelerating your return on investment, and decreasing the time spent training employees.
To schedule a free demo, contact Pinnacle today.
You can also join our "Acumatica Lunch & Learn" online demonstrations to learn more while enjoying lunch on us.