Empowering the Future: Teens in AI, Sage, and Pinnacle Unite to Bridge Tech Skills Gap
August 15, 2023 | News
Pete Hanlon, Head of Design and UX at Pinnacle
Pinnacle Mentors with Teens in AI & Sage to Bridge Tech Gap
Teens in AI: Fostering Innovation and Inclusion
In an era driven by technological advancements, nurturing young talent in the fields of science, technology, engineering, and mathematics (STEM) is crucial. Recognising the importance of cultivating the next generation of tech leaders, Teens in AI has forged a significant partnership with Sage as its Platinum Partner. This collaboration not only underscores the commitment to narrowing the skills gap but also provides a platform for teenagers to explore their potential through a transformative mentoring program.
Sage: Championing STEM and Skill Development
As a global tech business, Sage stands at the forefront of innovation. However, their commitment extends beyond just technological advancement. Sage is passionate about nurturing the next generation of innovators and believes in the power of STEM education to transform lives. Recognising the urgent need to bridge the tech skills gap, Sage has joined forces with Teens in AI to create a partnership that echoes their dedication to a brighter tech future.
A Transformative Mentoring Programme
One of the most exciting aspects of this partnership is the mentoring program at Teens in AI, called AI4 Good Incubator 2023. This initiative offers a unique opportunity for young minds to be guided by experienced professionals in the tech industry. Through one-on-one interactions, workshops, and hands-on projects, teenagers gained valuable insights into the world of technology but also cultivated skills that are essential for a successful career in STEM.

Pinnacle, a distinguished partner of Sage, has taken significant strides towards fostering innovation through its software development division. Invited to serve as mentors for the AI4Good Incubator's Design Thinkers initiative, Pinnacle's Head of Design and UX, Pete Hanlon, led multiple sessions in July. This unique opportunity allowed teens from around the world to tap into his expertise, while providing guidance in the design thinking process from helping them fully define and understand a chosen problem, plan, design and execute user research and designing user-centred solutions.
We caught up with Pete to explore his experience as a Design Thinker Mentor!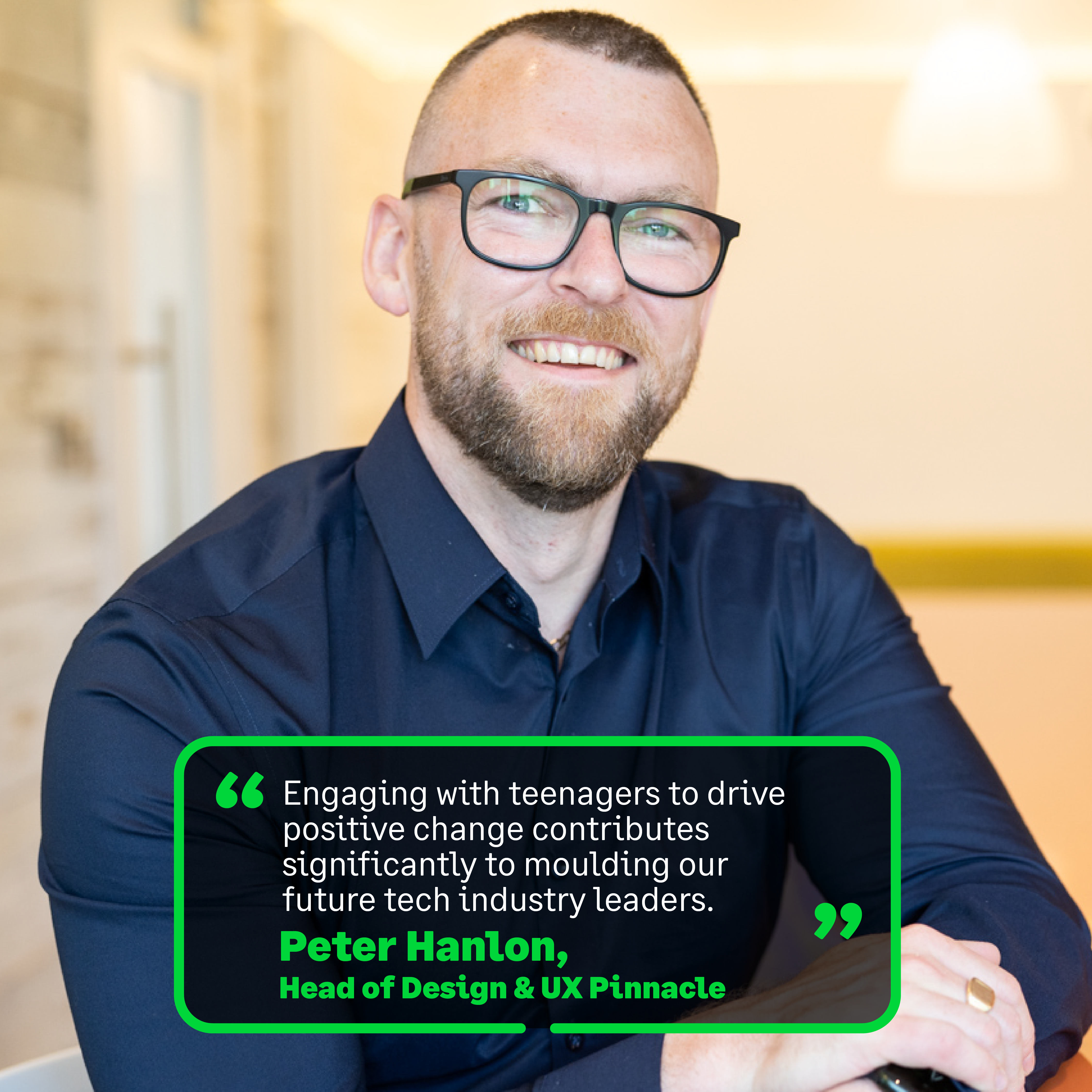 Pete Hanlon, Design Thinking Mentor for this year's AI4Good Incubator 2023
What have you enjoyed the most from being a mentor at the AI4Good Incubator?
I have enjoyed collaborating with mentors who share the same mindset and with young, emerging talent. The challenges posed by AI4Good have been incredibly thought-provoking. I've had the opportunity to work with talented individuals who are delving into design research and user experience challenges that could genuinely have a substantial impact on our environment through engaging apps with ethical AI considerations.
What impressed you or inspired you from your time as a mentor at the AI4Good Incubator?
I was genuinely impressed by the candidates' depth of understanding, their enthusiasm, and their unwavering dedication to working in teams across different countries. Collaborating with various mentors and meeting AI4Good's objectives showcased their remarkable ability to learn and take guidance, steering the final outcomes effectively.
In relation to the programme itself, I was thoroughly impressed with the thought-provoking challenges and the integration of software and AI to address the environmental issues that affect us all.
How would you describe your experience as a mentor for the AI4Good Incubator?
The experience of working with young, talented individuals to create a positive impact on significant environmental issues has been profoundly rewarding on a personal level.
In your opinion, how important is the work of Teens in AI?
The work of Teens in AI is extremely important. Engaging with teenagers to drive positive change contributes significantly to moulding our future tech industry leaders. The talented young individuals showcased remarkable abilities in collaboration, working under tight deadlines, and making ethical decisions that can address substantial environmental challenges.
What final thought would you want to leave the teens who participated?
In a rapidly evolving world characterised by constant technological advancements, the tech industry relies on young talent to question the status quo and think innovatively. Be inquisitive, challenge preconceived notions, and boldly push boundaries. Always keep the end user in mind, provide exceptional experiences, and collaborate with experts to advance your career goals. Keep the impact to our environment front of mind.
#TeensinAI #SagePartnership #STEMEducation #ai4goodincubator #teensinaisummer23 #globalgoals #tech4good